Custom Counter Displays

A countertop display is an ideal way to merchandize your products, as it puts your goods at the perfect height to catch consumers' eyes. To ensure your product attracts the most customers it can, you need attention-grabbing custom packaging. For custom packaging that turns out just right—quickly and cost-effectively, the first time and every time—look no further than Bling Bling Packaging. We deliver high quality, low-cost custom counter displays that match our customers' exact specifications.
Custom Options for POP Countertop Displays
Our custom POP counter displays are a simple and inexpensive way to merchandise almost any product. We custom print, high-quality countertop displays to meet your unique needs. The wide range of customization options available with countertop displays makes them the ideal way to help your products stand out to potential customers.
Counter Display Box Options for Retail & POP Displays
Display box options are a simple way to merchandise products in a retail setting, as POP displays may be your last chance to convert a browser to a buyer. Our counter display boxes and POP displays can be customized to feature a divider or even include 2+ shelves or floors.
---
Corrugated Cardboard Countertop Displays
Our cardboard countertop displays are made with top quality materials, and we also offer chipboard countertop displays (
chipboard vs corrugated cardboard, know the differences) for any of your merchandising needs.
Corrugated cardboard countertop displays are a great way to roll out new products and ideal for POS opportunities. The two most important considerations when designing custom countertop displays are the number of different products and how many of each that will need to fit in the display. Bling Bling Packaging can customize a variety of features after these are determined, including:
Corrugated cardboard types: B flute, C flute, E flute, F flute
Material burst strength: 125 lb. to 500 lb.
Custom printing: Direct printing or litho printing
Advantages
Corrugated cardboard displays have many advantages, including:
Environmentally friendly material
Lightweight while still supporting a lot of weight
Can easily be folded or cut into a variety of shapes
Easier to transport or store
Easily customized to meet your marketing needs
---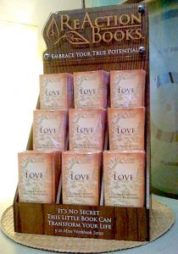 Temporary and Permanent Countertop Display Boxes
We can provide both temporary and permanent countertop displays. Depending on how long you need them to last, where they'll be used, the size and weight of your products, and other factors, we will help you select the best material and the most efficient production processes for your displays.
---
Printing, Coating & Other Design Capabilities
If you're still working to finalize your packaging designs or need help updating your product's current look, Bling Bling Packaging has an in-house graphic design and structural design teams available to assist you. We will work with you to optimize your design at reduced costs and/or faster turnaround times. We provide a wide range of design capabilities to best meet your needs, including:
Printing with up to six colors using CCNB or SBS paper in thicknesses from 10 to 24 pt.
Coating including AQ, UV, or satin coatings
Stamping with silver or gold foil
Embossing
Graphic Design
Additional custom design options are also available. Contact us today to discuss your custom packaging requirements.
---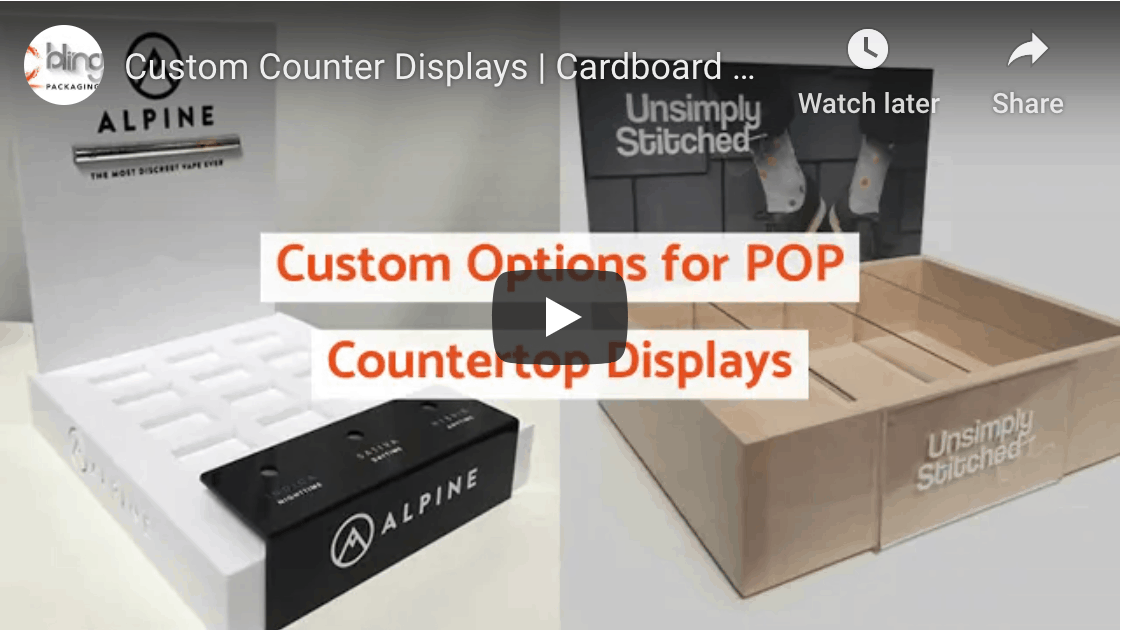 ---
Custom Countertop Displays with Industry-Best Turnaround Times
The Bling Bling Packaging team takes pride in manufacturing custom POP counter displays in some of the industry's best turnaround times without sacrificing quality. Your custom packaging can be completed in two weeks or less, following final design approval.
Speed and quality are also the cornerstones of our customer service. We deliver custom quotes within 48 hours of receiving all the information needed for your project. We promise you'll never find yourself waiting on us—we believe that good communication and swift responses to our customers' inquiries help things get done better and faster.
---
Contact Us for High-Quality Counter Displays Solutions
Bling Bling Packaging is your solution for high-quality counter displays, whether you are searching for a full-service packaging design company or only need a printing job completed.
You can count on fast turnaround times for quotes, printing, and delivery of finished products because a majority of our services are done in-house, and we have great relationships with long term vendors for any outside services. We have extensive experience in designing POP displays and use a creative approach that helps you make the sale.
Contact Bling Bling Packaging today to learn how we can help with your countertop display needs.