Custom Retail Packaging

Bling Bling Packaging produces all types of custom boxes for retail packaging. Our custom retail packaging solutions can be constructed from corrugated, chipboard, fiberboard, and/or clear acetate, as your needs dictate. All materials can be printed with up to six colors (cyan/blue, magenta, yellow, black, orange, and green).
Contact Bling Bling Packaging and we'll help turn your vision into reality! See our Retail Packaging Guide to learn how to select the best packaging for your product.
Retail Packaging Boxes Options
Bling Bling offers varied packaging solutions to best suit a variety of specific product and display objectives and budgetary requirements. Our three most popular custom retail packaging solutions include:
We can provide all types of die cuts out of "e" flute or "b" flute, and printing up to 6 colors, with a variety of coating options (AQ, UV, soft touch, matte, clear lamination, etc.)
We can create thermoform trays, clamshell packages, or custom packing inserts, as needed, for your retail packaging project. This also includes blister cards and header cards.
Our chipboard folding cartons include printing up to 6 colors in line on SBS or CCNB paper from 10pt to 24pt, plus AQ, satin, or UV coatings. In-house silver or gold foil stamping and embossing are available.
We also offer finishes such as AQ, satin, or UV coatings and in-house silver or gold foil stamping and embossing.
Deciding Between Chipboard and Corrugated Cardboard Packaging
Chipboard and corrugated cardboard each have specific properties and advantages that make them well-suited for specific types of product packaging.
Chipboard begins as a slurry of hot water and recycled paper which is pressed into different thicknesses to create a paperboard product with a fine, clean finish. Its smooth surfaces and pressed edges make it ideal for gift boxes, product sleeves, and boxes. Chipboard is less expensive to manufacture and ship.
Corrugated cardboard includes fluted recycled material sandwiched between a top and bottom liner board. While corrugated cardboard is itself lightweight, it has the capacity to support significant weight due to the fluting. The fluted material also adds cushioning for the product. Though more expensive to manufacture and ship, cardboard allows folding and cutting in a variety of shapes and facilitates extensive stacking without undue wear.
Also see: Chipboard Boxes and Chipboard Counter Displays.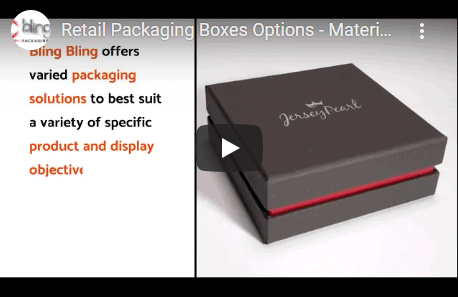 Why Do You Need Custom Retail Packaging?
There are plenty of standard boxes on the market, but a standardized option may not provide an optimal result when packaging or displaying your product. Custom retail packaging provides the ideal packaging solution for several reasons, including:
. Increased Brand Recognition
Branding is one of the most important aspects when distinguishing your products from other similar items on the market. Custom retail packaging helps you to increase brand recognition by using your logos, colors, and fonts to let buyers know who made the product they are purchasing. Maintaining specific brand elements across all packaged products will help drive increased business as satisfied customers repeat purchases and seek out other branded items from your company.
. Greater Control over Packaging Options
A generic package is rarely the best fit for your product. Controlling the size, shape, color, branding, and other packaging factors helps you to develop a perfect solution for marketing your product. Custom retail packaging offers this superior level of control.
. Provide the Best Protection for Your Product
A product that arrives damaged to a retail outlet or buyer's home leaves a bad impression of your brand and your company's commitment to quality. Custom retail packaging can be designed with the rigors of transport and handling in mind, ensuring that your products arrive safely at their destination.
. Provide the Best Display Option for Your Product
Attracting the attention of buyers should always be a primary objective when designing packaging. Custom retail packaging allows you to account for competitor product packaging designs and create a packaging solution that will stand out from other similar items on shelves and displays.
Retail Packaging Options
Along with custom boxes, Bling Bling provides other retail packaging services, such as:
. Embossing
Our talented team of designers can create custom embossing dies to match your logo, slogan, product name, or complete contact imprint. Embossed retail packaging can give any product a high-class, elegant look.
. Foil stamping
Foil stamping enhances logos, lettering in product names or slogans, or any part of your packaging to which you want to draw a customer's attention. Traditional silver and gold foil stamping are available, as well as a variety of new foil stamp colors, from mild to wild.
. Chipboard folding cartons
Your custom retail packaging can be printed with up to six colors, with inline printing on SBS or CCNB paper, from 10pt to 24pt, plus AQ, satin, or UV coatings. Foil stamping and embossing can also be added for an eye-catching look.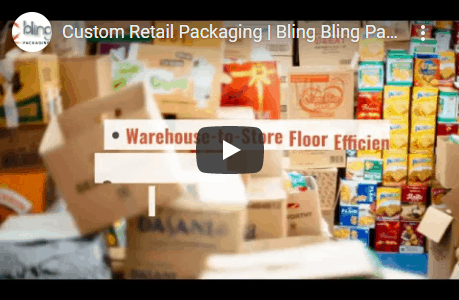 Our Custom Retail Packaging Solutions
When you work with Bling Bling to provide custom retail packaging, you can expect the very best attention from our team through a complete list of services that include:
Quotes. Get your custom packaging quote within 24-48 hours. Quotes are good for 30 days. Note: Quote times depend upon our receiving full and complete job specifics. When possible, we prefer to meet clients one-on-one to gain a full understanding of your exact wishes.
In-house design. We have both structural design and graphic design teams in house to create the perfect retail packaging for your products.
Direct to plate and conventional film/platemaking. Our onsite services provide reliability and guaranteed quality, with no third-service providers to drop the ball.
Quick turnaround. Our turnaround times are among the best in the retail packaging industry.
.1–6 color printing. Specialty coatings of all types are available (UV, aqueous, etc.).
Warehouse-to-store efficiency. Our custom retail packaging is designed for high-efficiency production and superior marketability. This minimizes the labor required for setup, allowing your products to arrive in stores in safe condition, undamaged, and ready to be displayed and sold.
Prototypes. We can often produce a prototype of your custom packaging design same-day; 48 hours is the maximum, including challenging designs or intricate die cuts. See the style, material, and size of your retail packaging project before the print run begins.
In-house die shop. We have onsite capabilities to cut special dies for YOUR logo, slogan, or promotional wording.
Proper packaging and display is crucial for attracting buyers, increasing brand awareness, and ensuring the safe delivery of your product to retailers, distributors, consumers, or other destinations. Please contact us to speak with one of our packaging experts about creating a custom retail packaging solution for your product.
* Quote time is dependent upon our receiving the full and complete information about your job. This is why; if possible, we prefer to meet the client one-on-one to ensure that we understand your exact wishes.
RETAIL PACKAGING GALLERY
All
Chipboard Folding Cartons
Chipboard Hangtag
Corrugated Retail Cartons
Ether Foam
Fiber Board
Litho Lam to E/F
Retail Di-Cut
Acrylic Retail Packge
Chipboard Sleeve
All
Chipboard Folding Cartons
Chipboard Hangtag
Corrugated Retail Cartons
Ether Foam
Fiber Board
Litho Lam to E/F
Retail Di-Cut
Acrylic Retail Packge
Chipboard Sleeve