Custom Foam Inserts

If you've got fragile or unusually-shaped products that need to make it to market safely, custom foam inserts are an ideal solution. Bling Bling Packaging's foam inserts are an easy and cost-effective way to protect your products against damage during transit, handling, and storage. Our capabilities include die cut foam packaging and custom protective foams to ensure that your products make it from Point A to Point B safely. Our custom foam box inserts are tailor-made to your specifications for a perfect fit and reliable protection from transit to retail display.


Material Options for Foam Box Inserts
We will work with you to develop the perfect custom foam inserts for your products. We convert all types of foam and can help you determine which variety will best protect your products against impact, vibration, and other hazards. Material options for protective foam inserts include:
Polyethylene foam
Ether foam
Polyurethane foam
Cross-linked foam
EPS foam
And more
As needed, we can provide foam end caps, foam cushions with any number of cutouts, or multi-piece foam inserts that completely encapsulate your products. All our protective foam inserts are die-cut to our customers' unique specifications. Whether your products require simple or complex custom cut foam inserts, we can provide a perfect fit.
Bling Bling Packaging also manufactures custom heavy duty cartons and a range of custom retail packaging options. Combined with custom foam inserts, our custom packaging solutions will protect your products through shipping, storage, and/or display.
---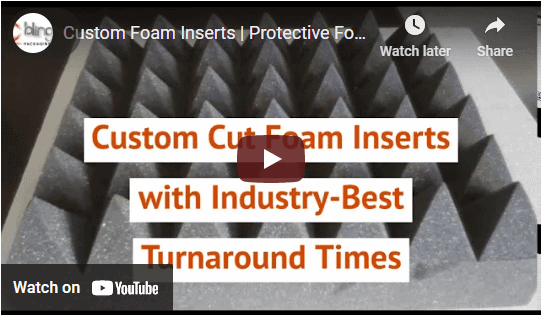 ---
Foam Inserts Applications
Bling Bling Packaging's custom foam inserts fulfill two key purposes:
1. They protect packaged goods during shipping and storage.
Custom foam products are perfectly molded or shaped to fit around your product's exterior shell to support any potential weak point or fragile materials. Not only can foam inserts prevent products from moving around in their packaging, but they also protect them from shock and impact. Foam inserts also add more structure to packaging, allowing it to support the weight of being stacked during shipment.
2. Provide an aesthetic/decorative way to display products.
Clear packaging and window cutouts allow customers to see products in the store without allowing for direct contact or wear. Companies use custom foam inserts to hold the product in the most appealing and informative position. Decorative custom foams can also be colored and printed for even more customer appeal on store shelves and in window displays.
Bling Bling's foam inserts is used in 818 Tequila's packaging — shown here in Kendall Jenner's Instagram!
Custom Cut Foam Inserts — Die Cut Foam
Die cut foam inserts are a dependable and versatile option for packaging and displaying your products. The same die cut foam pieces can be used to cushion your products during shipping and handling and to provide an eye-catching way to display your product on retail shelves. Our die cutting capabilities enable us to create custom foam inserts in unique shapes that fit your products perfectly.
Main Benefits and Characteristics
The main benefits of custom foam inserts include:
Cushioning. Foam inserts provide cushioning to protect fragile, heavy, irregularly shaped, and multi-part goods during transit.
Light Weight. Custom foam inserts are light and easy to handle at any volume, making them ideal for air, marine, and road transportation.
Custom Fit. Solid foams can be cut, molded, or otherwise manufactured to precisely fit both the exterior of a product and any cavities in the product for a completely secure hold. This custom fit protects against jostling, breakage, and shifting.
Excellent Display Aesthetics. Well-designed foam inserts add to the decoratvie and aesthetic appeal of the packaging, making the product stand out against competition.
Storage Capabilities. Foam inserts support the weight of goods so they can be stacked during transit and display without damaging the exterior packaging or the products.
---
Quality Custom Foam Inserts for Packaging and Shipping
Foam inserts offer a highly benefecial packaging solution for protecting and displaying your products. When selecting a custom foam insert provider, it's important to choose one with a proven track record of success. At Bling Bling Packaging, we excel at creating custom foam inserts with precision. We use a wide selection of foam materials and production processes to ensure each insert is the perfect fit.
Custom Cut Foam Inserts With Industry-Best Turnaround Times
We take great pride in our ability to produce custom foam inserts and custom packaging in industry-leading turnaround times, without having to compromise quality. After final design approval, we can deliver your custom protective foam inserts in two weeks or less.
The same speed and quality that go into our production processes carries over into all aspects of our customer service. We return custom quotes within 48 hours of receiving all the pertinent information for your project, and we strive to maintain consistent communication throughout the entire process. We believe that timely responses help things get done better and faster.
Contact Us for the Custom Foam Inserts You Need
Bling Bling Packaging is a leading provider of durable, lightweight, and precision custom foam inserts. For more information about our packaging options, or to get started on your custom foam insert solution, contact us or request a quote today.