Custom Retail Packaging & Custom Industrial Packaging

The packaging of a product significantly affects its success in the market. Retail product packaging often makes the first impression on potential customers, either repelling them or causing them to pursue more information and/or purchase the product. In addition to attracting customers, retail packaging also ensures the product remains intact and promotes awareness of a company's brand. Compared to retail packaging, industrial packaging serves as a slightly different purpose. Industry professionals employ it to protect their finished products during transport and delivery.
Regardless of whether a customer needs a retail or industrial packaging solution, Bling Bling Packaging is here to help. Our expert team has the skills and knowledge to design, develop, and deliver custom packaging that meets their exact specifications.
Contact us today to discuss your retail or industrial packaging project.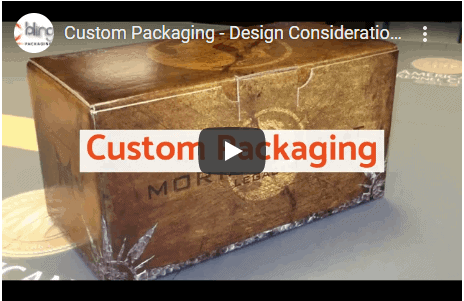 Overview of Retail Packaging
The primary focus of retail packaging is selling a company's brand and products to customers. Ideally, a product's packaging should communicate the functional and aesthetic qualities of the product and the company's brand messaging and customer interests. This information should hopefully generate a positive reaction that draws in new customers and encourages repeat customers.

Designing your Custom Retail Packaging
Before designing retail packaging, industry professionals should ask themselves the following questions:
What is the product?
Who is buying the product?
How are customers buying the product?
The answers to these questions enable them to focus their packaging design on the specific needs and desires of their target market. With these answers in hand, they can move on to the design phase. Some of the design considerations to keep in mind include:
Packaging materials. Before choosing a type of packaging material for a product, research the benefits and limitations of each. Additionally, look at how competitors package their own products.
Design simplicity. In packaging, less is more. Too many elements make for a busy design and add to manufacturing costs.
Market branding and positioning. Ensure the final packaging appeals to the target market and end-users.
Aesthetics. Where a product is sold affects what sells it. In brick and mortar stores, customers can interact with a product before purchasing it, so the packaging should appeal to all five senses. Online retail stores do not have that advantage, so the visual appeal must be strong enough to stand out among alternatives.
Text. Regardless of whether a product's primary market is a physical location or an online store, packaging text must be legible. This condition affects the overall design size, color, and complexity.
Attractiveness. Most customers have a short attention span, so a product's packaging needs to be able to both capture and hold customer attention.
Protection. Whether in stores or a customer's home, a damaged product damages the reputation of a brand. A product's packaging should be able to protect it from damage.
Budget. While high-quality packaging is an investment that can lead to significant customer growth, the packaging chosen should also fit within the project's budget.
Going green. For environmentally minded customers, using recycled products is a huge selling point for a company as it demonstrates that they care for the environment.
Overview of Industrial Packaging
The primary function of industrial packaging is protecting finished products before they reach retail stores or the end user. By employing these packaging materials, industry professionals ensure their products are safe and ready to use once purchased. The use of the materials can also support a company's brand awareness efforts.

Why Use Industrial Packaging?
Two major packaging-related issues can damage or destroy a brand's reputation—damaged packaging and damaged products. Both communicate that a company does not have high-quality standards and/or does not value the satisfaction of their customers. In either case, it causes customers to question their trust in the brand, resulting in a lower chance of repeat purchases. Industrial packaging serves as the ideal solution to both issues.
In addition to protecting products from damage during shipping, handling, and storage operations, custom industrial packaging provides other advantages to product manufacturers and distributors, such as:
Branding opportunities. A product's supply chain network consists of numerous individuals and
entities. Using custom industrial packaging, such as wood pallets with the company name, can boost awareness of a company or brand, potentially resulting in new clients or customers.
Time and money savings. Besides eliminating the costs associated with damaged products, designing industrial packaging to make shipping, handling, and storage easier, saves time and money along the distribution
process.
Streamlined fulfillment operations. Clear printing, barcoding, and product labeling also help eliminate issues related to fulfilling orders, further speeding up the process of getting products to customers.
Retail & Industrial Packaging Options
From blister packs to custom-cut foam pieces to custom boxes and cartons, we provide complete packaging solutions. And we do more than just manufacture your custom packaging—as needed, we can provide design assistance to help you finalize new packaging designs or to update the look of your current designs. We have structural design and graphic design teams available in-house to give you start-to-finish service and expert guidance through every step of your project.
Custom Boxes, Custom Cartons & Custom Containers
We provide custom boxes, custom cartons, custom chipboard boxes, and custom containers that are manufactured to meet your requirements. Specify the size, shape, and structure you need, the material(s), colors and custom printing, and any other key features, and we'll deliver custom retail or industrial packaging you need
Bling Bling Packaging provides a full line of custom blister pack options for your products. We can provide thermoformed trays, clamshell packaging, inserts, blister cards, header cards, and more. Pack-out service is also available to give you fully-packaged, ready-to-ship products.
Custom Foam Inserts
Foam inserts are an easy and effective way to protect products during shipping/transit and to display them inside a box or carton. We offer custom foam inserts and custom die cut foam that will keep your products safe and help them look great in retail displays. We can custom-cut foam inserts in any configuration to accommodate even the most unusual product shapes.
Contact Us for All Your Custom Packaging Needs
Bling Bling Packaging provides complete, start-to-finish packaging solutions in some of the industry's fastest turnaround times. We can manufacture, print, and have your custom packaging ready to go in two weeks or less.
Since 1997, we've built our reputation on high quality products, quick turnarounds, and unparalleled customer service. Contact Bling Bling Packaging for the custom retail packaging or custom industrial packaging products you need.