Custom Corrugated Inserts

Corrugated inserts are an effective and economical way to keep products in shipping boxes in place during transit. They're fairly simple products, but not all inserts are created equal. You can use stock, off-the-shelf inserts in your shipments and hope for the best, or you can use custom corrugated inserts from Bling Bling Packaging and know for sure that your products will arrive at their final destination safe and sound.
---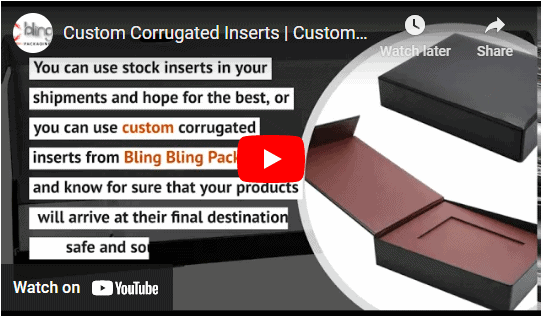 ---
Custom Shipping Inserts from Bling Bling Packaging
Our custom corrugated inserts are the best way to protect your projects during packaging, storage, and shipping. We will work with you to create custom inserts that are a perfect fit for your products and your boxes or other packaging.
We can custom die-cut inserts in nearly any shape you require. We can add cut-outs and other special features to create corrugated inserts that will fit your products' unique shape to provide superior protection.
Bling Bling Packaging works with various corrugated cardboard materials (B flute, C flute, E flute, and F flute), and can help you select the best option for your needs. We use the same materials for ourcustom corrugated boxes.
If your custom inserts require custom printing, we can provide four-color or full-color printing with any logos, writing, or other design you need. Custom coatings and other options are also available.
Contact Us for Custom Corrugated Inserts & More
Customers all across the country turn to Bling Bling Packaging for high quality products, quick turnaround times, and world-class service. Contact us for custom corrugated inserts for your products.
We also offer a variety of custom retail packaging and custom industrial packaging options. We can provide complete packaging solutions, with shipping boxes, inserts, and display boxes/packaging that's custom-made to your specifications.