Pallet Displays
Pallet displays are a form of point-of-purchase (POP) displays that allow retailers to ship and transport consumer products conveniently, set up products quickly, and attract consumer attention. These ready-to-sell displays facilitate safe and secure shipping and incorporate an eye-catching design that maximizes floor space utilization and encourages customer sales.
Additionally, they are generally suitable for use in a retail environment with little to no unpacking and assembly requirements.

At Bling Bling Packaging, we are experts in designing and creating custom retail pallet displays that meet exact client specifications for discount club stores and other retail businesses. We can deliver a self-contained, easy to set up display solution that helps your products stand out.

Contact Bling Bling Packaging to discuss custom pallet displays for your products.
---
Custom Pallet Displays
We offer custom pallet displays in a variety of styles and materials to suit different retail display applications.
Choosing the Right Type of Pallet Display

The types of pallet displays available include:
Half pallets. With half the footprint of a traditional full-sized pallet, half pallets are perfect for filling small spaces in retail stores. Smaller modular pallet displays are easier to move and may fit the size of a product best.
Full pallets. Traditional pallets measure 48 inches x 40 inches. Many retail stores and discount clubs plan for delivery and display of these types of pallets as they are more efficient and stable for transport.
Dump bins. Available in different sizes and shapes, dump bins are an effective way to display smaller, more lightweight items in a single container, especially if the retailer provides several product options to consumers.
Stacking trays on pallets. Stacking trays are suitable for displaying heavier, bulkier products. Warehouse stores may prefer this display method as it facilitates product consolidation and reorganization.
Picking the Best Material for Your Display

Regardless of your product or display requirements, we can design and manufacture a custom display solution for your application. Our displays are available in metal, acrylic, wood, corrugated, and combination materials to suit your functional and aesthetic requirements.
Metal is strong, durable, and well-suited to permanent displays of large or heavy items. We can create your display from rigid wire, formed sheet metal, or a combination of these two materials, as well as powder coat and custom print designs on the metal to provide a more polished look.
Acrylic offers a lot of flexibility, including custom lighting and engraving options. This quality can help you achieve a high-end retail aesthetic.
Wood provides versatility for nearly any type of product and can be customized to give you virtually any look you want.
Corrugated displays are an effective and economical display solution that offers a wide range of customization options.

Optimizing a Store's Floor Space
All retail stores—whether large or small—focus on optimizing their floor space utilization to fit a wider variety of products. By building compact displays that showcase more products in less space, we help our retail partners maintain larger product inventories and, consequently, make more customer transactions.
Making Your Products Bling
A well-constructed pallet display incorporates both functional and aesthetic design elements. Although durability and functionality are important, pallet displays won't bring a return on your investment unless they also adequately showcase the value of your product. To achieve this latter requirement, displays should make you stand out from your competition, such as by incorporating a memorable design that both ties into your brand positioning and entices and educates the consumer about the
product.
---
Our Pallet Display Capabilities
. Design Optimization
While designing a display to hold your retail products is relatively simple, creating one that enhances your brand and showcases your products for maximum sales is a little more difficult. At Bling Bling Packaging, our experts can help you choose the right type and construction material(s) for your display application, as well as assist in creating the optimal design for minimal material waste and production times.
. Industry-Best Turnaround Times
When you need to sell products, there's no time to wait around and let your competition get an edge. Once we finalize the display design and artwork, we can turn around your pallet construction quickly, often in less than two weeks. By managing all the logistics, we can ensure that your retail pallet display is created, packaged, and shipped fast, without sacrificing quality.
. Custom Printing
From logos to lettering and printing on metal to printing full-color corrugated displays, we can do it all. We offer direct, four-color printing and full-color litho printing. We also provide additional finishing options like foil stamping or custom coatings to protect against fading from UV light.
---
Order Quality Pallet Displays from Bling Bling Packaging
At Bling Bling Packaging, we can design and manufacture virtually any type of display solution. We're knowledgeable about the requirements that discount club stores and other large retailers have and can make suggestions about design and packaging that save money and materials while maintaining sales appeal. Additionally, we can manage the entire fulfillment process, including packing, sealing, placement in corrugated trays, stacking on large commercial pallets, shrink wrapping, and shipping.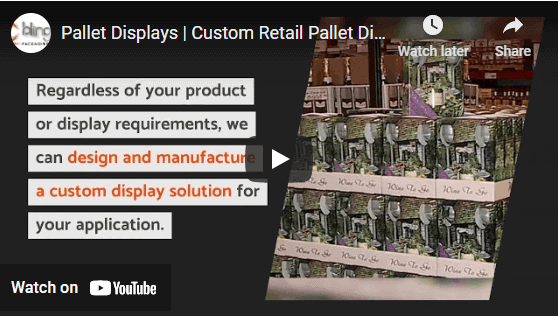 We handle all of the structural design, tooling, printing, die cutting, assembly of the retail displays, and logistics (including transportation) to make retail pallet displays an easy and convenient display option for your products. This commitment to providing quality customer service allows you to focus on product or business aspects without having to worry about the finer details like choosing the best weight of corrugated material, the size of pallet needed to
meet Costco's specifications
, or figuring out how to cold seal your products.
Contact us today to learn more about our retail pallet display capabilities or request a quote.