Custom Protective Packaging
Protective packaging is constructed from soft, durable material used to seal a product. The use of protective packaging ensures that a product holds its shape and is protected from environmental factors and physical damage during the transition from manufacturer to customer.

At Bling Bling Packaging, we create custom protective packaging solutions to ensure that your items get to market in the safest, most efficient way possible. Our solutions include durable cartons and shipping containers, blister packaging, inserts for shaping and cushioning, and more. We provide full in-house solutions from creating custom packaging to fulfilling and assembling orders.
Contact us today to discuss your custom protective packaging needs.
Custom Heavy Duty Cartons & Shipping Containers
Bling Bling Packaging offers a variety of heavy duty cartons and shipping container solutions, including regular slotted containers in single-wall, double-wall, or tri-wall; any type of die cut to support your products, and all types of custom foam inserts to absorb shock during shipment and ensure safe delivery.
Bling Bling Packaging offers an array of custom blister pack options to meet your industrial packaging needs. We can create thermoform trays, clamshell packages, custom packing inserts, and more. We can also provide blister cards and header cards for your products, as needed.
Heavy duty cartons have the stability and strength to take on rough traveling conditions, abrasions, and stacking. Companies can choose sturdy, corrugated cardboard boxes for shipping; custom-molded plastic carrying cases for heavy duty protection during transportation; and more. At Bling Bling Packaging, we account for weight and stacking needs when designing custom protective cartons and work with each customer's unique requirements. Our team creates single,double, triple, and quadruple wall cartons capable of carrying up to 350 pounds.

Custom Foam & Corrugated Inserts
Bling Bling Packaging offers custom foam and corrugated inserts that sit inside packing containers and boxes to protect individual items. Our foam inserts are die cut to meet the exact specifications of your items so you can confidently transport sensitive equipment, fragile materials, and one-of-a-kind items and protect them from rattling, shaking, and impact. Foam inserts can be constructed from a diverse range of foams, including polyethylene, EPS, polyurethane, and more.
Our corrugated inserts offer a more cost-efficient option for protection against product damage. We offer both stock and custom options that come in a variety of materials, shapes, and sizes to suit your packaging requirements.
---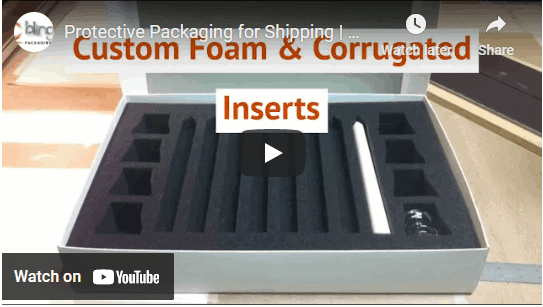 ---
Protective Packaging 101
Protective packaging does more than house products as they move throughout the supply chain. It guarantees that each item will reach the next location without damage. This ensures customer satisfaction, streamlines production, and saves time and money by eliminating the need to replace broken goods.
Protective packaging comes in many different layers and varieties to best protect its contents, including individual packaging elements within resale packaging, protective barriers within shipping containers, and shipping containers themselves.These layers improve product delivery, ensure a memorable unboxing experience, and provide marketing materials to customers with custom branding and messaging.
Shipping boxes provide an excellent opportunity to market your brand to passing target audiences. If you use high-quality corrugated shipping boxes, insert materials, and other protective packaging elements, it speaks to the quality of the product and exemplifies your company's goals to provide an excellent customer experience.
You can brand your boxes for customers who:
Have products delivered from your website
Will see your boxes on retail shelves
Enjoy unboxing videos and experiential shopping
---
Fulfillment & Assembly Services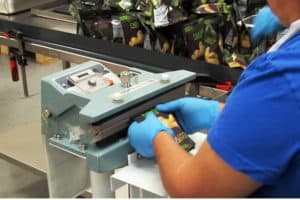 At Bling Bling Packaging, we provide complete industrial packaging solutions. As needed, we can provide:
– Any type of hand assembly
– Packing of delicate or complex items
– Collating of documentation for inclusion in packages
– All types of permanent or temporary gluing
– Scoring of paper, cardboard, or chipboard
– Taping for package or sealing, as well as double-sided tape product assembly
---
Contact Us for Your Custom Protective Packaging Needs!
Our team can help you design and choose the right protective packaging elements for your products, fabricate the packaging to meet your custom requirements and detailing, and assemble the packages for shipping. Contact us or request a quote to start creating high-quality protective packaging that will help your products reach their destinations.
INDUSTRIAL PACKAGING GALLERY
All
Corrugated Shipper Carton
Industrial Di-Cut
Grey Ether Foam
Poly Lam Foam
All
Corrugated Shipper Carton
Industrial Di-Cut
Grey Ether Foam
Poly Lam Foam