Custom Printed Shipping Boxes

Most businesses understand the importance of packaging that reflects their brand identity. However, fewer recognize the potential presented by custom boxes for shipping. The right shipping box does more than protect products during transit. A unique design catches the eye both during and after delivery, serving as passive advertising for a brand. Even simple customizations can make an impression on buyers and provide a positive first interaction with your product. Bling Bling Packaging and Display helps clients make their packaging an asset through our comprehensive custom box solutions.
Choosing the Best Box Type for Your Shipping Needs
To realize maximum benefit from custom shipping boxes, it's important to identify the right box type for your needs. Factors that might influence this decision include:
Shape and size
Protective capacity
Appearance
Cost
Sustainability
Shipping and storage logistics
The right box will be of the appropriate size to safeguard the product. Boxes that are too small may be insufficiently protective, while boxes that are too big cost more and require extra padding. Similarly, the best box should offer a good user experience. It should be attractive, and the products within should be as easy to access as possible.
Box Types
Some common box types to consider include:
Regular slotted containers.

Regular slotted containers are what most people think of as the "standard" shipping box. They have four flaps that are typically taped together where they meet. Since these boxes are so common, they are available in bulk production and are highly affordable. Their dimensions and thickness are customizable, and they are easy to print with custom logos and graphics.

Full overlap containers.

A full overlap box has the same general design features as a regular slotted container. However, in a regular slotted container, the flaps are only half the width of the box, so when folded, they meet each other at the center. By contrast, the flaps on a full overlap box are as wide as the box itself, so they cover one another when folded. These boxes offer a simple way to create more cushioning for fragile products. You might also have a single top flap that covers and overlaps the width at the top of the box, folding down over the top of the box sides.

 

Full telescope containers.

Telescope boxes come in two pieces: a box and a lid. The lid slides down overtop its corresponding box to completely cover it. This design improves compressive strength and increases padding on every side of the box. Also, simple slotted tray assemblies make up both components, so they remain cost-effective to produce. 

Tab locking boxes.

The folding configuration of a tab locking box is such that its lid locks into the base using a tab and slot design. This design is more pleasing for clients to open, and it makes it easier for them to reuse the box. These boxes are a common choice for retail packaging, but they are growing in popularity as distinctive shipping boxes.

Literature mailers.

Literature mailers are essentially tab locking boxes in which the entire lid folds into the box. By comparison, tab locking boxes have one or two tabs that fit into small slots. As their name suggests, literature mailers are commonly sized to protect documents or magazines. However, thanks to their attractive, reusable design and pleasant opening experience, literature mailers are useful for a diverse range of products. Both tab locking containers and literature mailers are popular choices for e-commerce brands and subscription boxes. 

Five-panel folds.

Like regular slotted containers, a single, scored piece of cardboard makes up five-panel fold box construction. The difference is that five-panel fold cartons have an extra fifth panel to strengthen the box. They are a common choice for very long boxes, as that fifth panel reduces the likelihood that the box will collapse.

One-panel folds.

One-panel folding boxes are specifically for very flat items. Utilizing one sheet of cardboard, these boxes fold around the product, with the flaps neatly meeting on the back. If your product is small and lightweight, one-panel folders offer a clean look that holds up well to customization. 
We can modify all of these box types to better represent your brand, so the choice comes down to your product's needs and your brand's visual identity. The team at Bling Bling Packaging can help you identify the ideal box type and custom box size for your needs. 
In addition to the shape and size of the box, you may also select from multiple fluting options. Fluting refers to the wavy internal layer that gives corrugated materials their strength and cushioning. A-flute is the thickest flute size at 1/4″, so it is best for fragile products, whereas F-flute is just 1/32″ thick. Most boxes use C-flute, which is approximately 3/16″ thick. The experts at Bling Bling Packaging create boxes from corrugated cardboard with B-flute through F-flute thicknesses to make sure your custom box meets your weight and cushioning requirements.
---
Custom Printed Shipping Boxes From Bling Bling Packaging



Many shipping boxes look exactly the same. Custom boxes draw the eye and provide a memorable customer experience, improving the buyer's first impression of your product. Consistent branding also helps solidify your company's visual identity, helping buyers recognize your brand in the future. Generic boxes are a lost opportunity to passively market your brand not only to existing buyers, but also to everyone who encounters that box, from postal employees to nosy neighbors.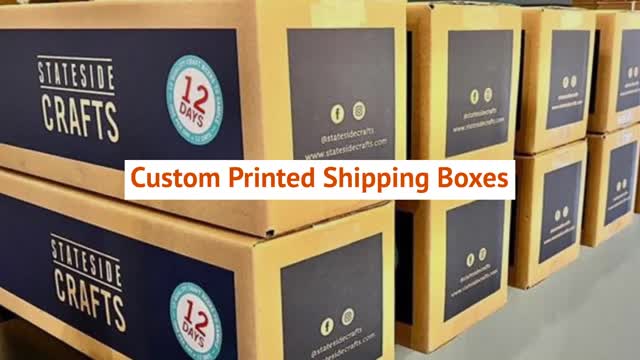 Printing Solutions
Printing is one of the most impactful and cost-effective ways to customize a shipping box. The two primary options for printing on a box include direct printing and litho printing. Direct printing is best for text or simple designs, such as for creating custom shipping boxes with logos. Litho printing can generate more complex, multi-color designs, including graphics with photo-like quality, and so is the more expensive of the two. Bling Bling Packaging uses four-color direct printing and full-color litho printing to create clean, professional graphics.
Box Inserts for Shipping Protection
In addition to customizing the outside of a shipping box, businesses can also customize the inside of the box through corrugated and foam inserts. The main purpose of these inserts is to protect products by preventing them from moving during transit. However, these inserts can also position products in an attractive manner. Even purely protective inserts can match the exterior of the package, which can add to the aesthetic appeal of a custom shipping box.
Bling Bling Packaging creates custom die-cut inserts with four-color or full-color printing techniques, along with additional coating or cut-out options. We also craft foam inserts including end caps and cushions for products that require a greater degree of protection.
Custom Options for Heavy-Duty Shipping & Storage Cartons
If you're shipping and/or storing products, you need a reliable and inexpensive way to keep those products safe. Whether they're fragile or not, you don't want rough handling, bumpy road conditions, or improper stacking to damage your goods. Offering sturdy, cost-effective protection that fits your products perfectly, custom heavy-duty cartons from Bling Bling Packaging are the ideal solution.


Our heavy-duty cartons are customizable to your unique requirements. The two biggest factors we consider when developing custom shipping/storage cartons are the total weight that each carton will carry, and whether or not they will be stacked. From there, we will produce single, double, triple, or quadruple wall cartons, with up to 350 lbs. capacity and in nearly any size you need.
Though shipping cartons and storage cartons rarely require extensive decoration, we can provide custom printing in multiple colors and with special coatings, stamping, and/or embossing.
---
Custom Packaging with Industry-Best Turnaround Times
We pride ourselves on our capacity to produce custom-size shipping boxes and custom heavy-duty cartons in some of the industry's shortest lead times without compromising quality. Once your design has been finalized, we can deliver your custom order in two weeks or less.
Our commitment to speed and quality extends to every area of our customer service. We provide custom quotes within 48 hours after receiving all the necessary information. We know that good communication and quick-but-accurate responses to customer inquiries help things get done better, faster.
Contact Our Experts for Your Custom Packaging Needs
At Bling Bling Packaging, we've made our name on quality packaging products, quick turnarounds, and unsurpassed customer service. Contact us today for custom printed shipping boxes and heavy-duty cartons.