Packaging material and design are two essential elements of an effective retail strategy, whether online or in-store. Selecting the right kind of packaging material can reduce costs and offer much-needed protection for the product. In addition, an optimal packaging design scheme can enhance a company's brand image, providing an extra measure of marketing appeal for end customers.
Bling Bling Packaging and Display offers a wide range of customized packaging solutions for our clients, helping them to attract customers and positively promote their brands. Contact us today to discuss your packaging needs.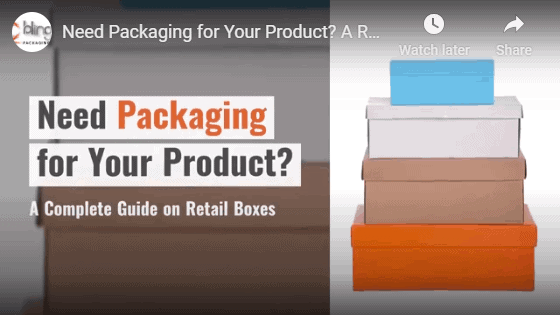 Choosing the Right Packaging for Your Product
It is important to choose the right packaging for your product for a number of reasons. Optimal packaging will help you save on costs, enhance your product's marketing appeal, and keep your product safe from incidental damage during the transportation process.
Important factors to keep in mind when selecting your packaging material include:
Budget limits and constraints
The nature and functionality of your product
Transportation method and distance
Optimal package size
Your target audience
Chipboard and Cardboard Boxes for Retail Packaging

Chipboard and cardboard are two very popular and highly customizable material options for retail packaging. At Bling Bling Packaging and Display, we feature a wide variety of chipboard and cardboard packaging solutions suitable for nearly any application.
For customized chipboard packaging, we offer printing with up to six colors on SBS or CCNB paper, with thicknesses varying from 10-24 pt. We also provide customized coatings per customer preference, as well as silver- or gold-foil stamping and embossing.
Our affordable custom corrugated boxes also come with a wide range of design alternatives. We can customize our solution according to size, style, corrugated material (B, C, E, F flutes), burst strength, and several other parameters. We offer custom printing finishes as well.
While similar in many ways, chipboard and corrugated cardboard each have distinct features:
Corrugated packaging consists of cardboard "sandwiches, where two sturdy cardboard sheets form the top and bottom edges, while fluted, fan-like folds occupy the middle section.
Corrugated boxes are generally an economical option and can hold significant load weights.
Chipboard is constructed from recycled paper that has been layered and pressed into a specified thickness.
Chipboard is usually thinner than corrugated cardboard but can hold an equivalent amount of weight.
Chipboard is often less expensive than cardboard.
Due to its manufacturing process, chipboard typically retains its functionality and appearance for a longer time than corrugated material.
Bling Bling offers a variety of chipboard and cardboard solutions, and our experts can help you select the most appropriate packaging material for your unique product and application.
Blister Packaging
Blister packaging is the preferred option for a variety of products because it offers several benefits, such as:
An efficient way to package products
Allows prospective customers to examine the product contained within the package
Perfectly suited for display from hanging racks or shelves, increasing visibility and boosting the aesthetic appeal
At Bling Bling, we supply our customers with blister packs that are custom-tailored for each product. Our capabilities include:
Blister packs that are 100% customized according to client specifications
Blister cards that carry printed designs in up to six colors
Design experts ready to help as needed
Clear blister packaging in thicknesses range from 10-20 mm
Industry-leading turnaround times, often two weeks or less
We take great pains to ensure that our blister packs perfectly fit each customer's product. Moreover, we work with each client to guarantee that our customized blister cards display any logos, lettering, product specifications, and other information in a way that exactly matches the customer's branding.
Whether utilizing corrugated packaging or clamshells, you can always be sure that the blister packs we deliver will meet or exceed your expectations.
The Importance of Branded and Customized Packaging
Far more than simply a means to deliver products to a retail outlet or residence, branded and customized packaging is a subtle but important way to connect with your consumers, boost your company's image, and provide a winning customer experience. E-commerce sales increased by 14.3% year-over-year in 2018, so it's safe to say that the importance of optimized packaging will only grow in the years to come.
Consider the following factors when selecting and designing packaging for your products:
Ensure that each product's package design is consistent with your brand image. For instance, it's usually a good idea to keep the logo, color scheme, and other design elements the same on each box.
Ensure that the product will be adequately protected during transit. Your customers won't care much about the aesthetic appeal of the packaging if their item has been damaged before delivery. In addition, if your products are frequently damaged in transit, the damage to your brand will be catastrophic. Consumers leave online reviews, they spread their experiences by word-of-mouth, and more. If your packaging design doesn't facilitate safe shipment, word will get out quickly.
While handwritten notes attached to five or 10 packages may be a nice marketing touch, attempting to attach such notes to an order of 5,000 would likely be far too labor-intensive and costly to implement. For the sake of consistency, it is best to know the practical limits of your branded packaging strategy and stay within them.
Branded and customized packaging can enhance your company's image—not just among your end customers, but among all the postal workers and passersby that notice your colorful and appealing packages.
---
Options for Custom Boxes and Custom Cartons
At Bling Bling Packaging and Display, we provide a wealth of options for custom boxes and cartons. We want to meet each customer's packaging needs with a workable, affordable, and tailored solution that perfectly matches the project's requirements.
Some of our capabilities include:
Custom printing for cartons and boxes. We offer two printing options for your logos, lettering, text, and other printed design elements. First, we can direct print onto the box or carton itself, which allows up to four colors. We also offer litho printing, which allows for unlimited colors printed onto litho stock, which is then mounted onto the packaging material.
Design assistance. Our in-house structural and graphic design experts can lend you a hand if you are unsure of the best design elements or best practices for your product's packaging. We can assist you with identifying cost reductions and help you to implement design optimizations that will improve the speed of production.
Our designers can utilize custom embossing dies to supply an elegant look to your package design.
Foil stamping. Our foil stamping capabilities draw a customer's attention to a specific design element on your package. We offer traditional silver and gold foil stamping, as well as a range of new foil stamp colors.
Chipboard folding cartons and corrugated boxes. Whatever your packaging needs, we have the right materials to provide an optimal solution.
---
Get Inspired
---
Get the Custom Retail Package You Need
At Bling Bling, we offer high impact, visually appealing packaging and display solutions to our customers. We have helped many clients to maximize the success of their merchandising initiatives. Whether for retail or industrial packaging, our capabilities include full-service custom packaging for:
Boxes
Cartons
Containers
Blister packs
If you ever get stuck on a design, our team of in-house experts stands ready to assist you with suggestions that will optimize your solution. We also offer complete pack-out service.
If you'd like to learn more about how to get the custom retail packaging that you need for your business, contact us today, or request a free quote.